New Medical Device Design & Development Services
DUKE Empirical provides catheter product development solutions for OEM companies, using our vast technical expertise in medical design and manufacturing to create high-quality products that meet your design requirements. We design and develop market-leading products for use in global interventional and diagnostic medical device markets.
Our in-depth expertise is specialized in the design of catheter-based minimally invasive surgical and medical tubing products across a wide range of clinical market segments. Our experienced team of product development engineers utilizes the latest material technology and processing equipment to produce the highest-performing catheter and medical tubing products which are specifically designed to enable new medical procedures.
Contact us to learn more about Duke's design services.
Catheter Device Design Verification
DUKE Empirical provides design verification for new products according to ISO 13485:2016 compliant design control standards to confirm that the design meets all of the defined requirements for the intended use.

The design verification process confirms that the design input, which is provided by the client, meets the design output, which is confirmed by empirical methods. The medical design and manufacturing process follows a phased approach.

DUKE Empirical utilizes ISO Class 8 cleanrooms to extrude, manufacture, and assemble our medical tubing, catheter components, and finished goods. Our controlled environment rooms are monitored for particulate to the ISO 14644 standards. In addition to meeting the ISO standard for particulate, the rooms are monitored for microbiology, making them suitable for medical device manufacturing.


Initial Medical Product Design
In phase I, a preliminary design specification is developed from the client's requirements. This may be in the form of the client's marketing requirements or a complete design specification or engineering drawing for a new product design that has not been built previously.
For clients with unique product challenges, our experienced team can provide high-quality medical design solutions. DUKE Empirical assists clients with the preliminary design specification and provides guidance for informed specification development based on our substantial product development and manufacturing experience, both at the concept phase and also the design screening phase.
Development of New Medical Device
The main advantage our experience provides is efficiency in establishing an optimized design solution, supported by a large number of in-house process and manufacturing capabilities.
Design screening begins with the design concept phase, followed by the design selection process with the client. In this phase, we recommend multiple design options, each having the potential to meet the intended design goals.
A matrix of considerations is used to weigh each design option in terms of:
Priority
Difficulty/complexity
Cost
The time to demonstrate design feasibility
Based on the selection criteria, our clients often choose to pursue multiple design paths in parallel for the development of functional prototype samples to demonstrate concept feasibility.
In the design screening phase, multiple design concepts are evaluated using testing methods that provide variable and attribute data to quantify and qualify a design in terms of the ability to meet the design requirements.
Design screening may include engineering bench tests, preclinical experiments, physician preference evaluations, and specific tests that are used to investigate particular aspects of a design such as simulated use, force analysis, dimensional, fatigue, thrombogenicity, or other tests.



During the design screening phase, we define and conduct a series of tests to generate objective data for the narrowing of the designs to a selected design. Upon design selection, the milestone of Prototype Design Freeze is reached, and the project moves to the design characterization phase where multiple copies of the selected design are built according to standard manufacturing processes for further characterization of the design specification for the product.


Clinical Release to Reach the Final Design
Depending on the client's needs, DUKE Empirical will lead the process and deliver a complete design solution that is qualified, tested, manufactured, and certified to meet all defined specifications, including functional and dimensional requirements.
DUKE Empirical will perform a limited subset of activities to support our client's design control process. These activities may include providing data for compiling design history records (DHR) and regulatory filings.
Some examples of select design verification services are listed below:
Design Documentation
CAD Modeling
Functional performance evaluation – kink resistance, burst pressure, column strength, axial stiffness, elongation & tensile testing
Characterizing Design Performance – simulated use
Benchmarking comparable devices
Design of Experiments
Design for Manufacturability
New Medical Device Design Validation
Design Validation is "establishing by objective evidence that device specifications conform with user needs and intended use(s)" (21 CFR 820.3).
Upon completing design verification, we perform design validation activities to ensure the design meets the user needs and intended use of the product. These activities require the design to be manufactured according to manufacturing controls.
Some of the activities in the verification phase are also activities in the design validation phase. These include:
Bench Tests
In Vivo Testing
Physician Preference Testing – bench testing, cadaver, preclinical, and clinical evaluation
Design verification confirms that the design output meets the design input requirements, while design validation ensures that the "right" product is made.
The distinction between V&V is made more clear in the following chart: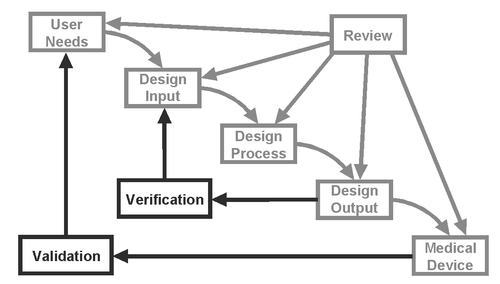 FDA CDRH 1997 Design Control Guidance for Medical Device Manufacturers

Catheter Device Development Services
DUKE Empirical provides catheter product development services to ensure your custom catheter-based minimally invasive medical devices meet our rigorous quality standards. Products and services are provided in conformance with EN 13485:2016 certified quality management system, ensuring that our development processes and manufactured products meet the latest federal requirements and international standards throughout the lifespan of your product from conception through commercialization.
Our development service options include:
FMEA (failure mode effects analysis)
Risk Assessment
Functional Test Plan creation
Testing Protocol Development
Design, fabrication, and implementation of testing fixtures
Test Method Validation
Supporting Regulatory Filings with Design History File Records
Learn More About DUKE's Medical Device Custom Manufacturing
DUKE Empirical is your leading catheter manufacturer of medical tubing, offering the technical expertise and in-house manufacturing capabilities to produce prototypes through scaled catheter manufacturing for your product's life cycle. We offer medical product manufacturing and assembly services to develop a catheter-based medical tubing perfect for your needs.